TDP, PRP lash at Chidambaram on Telangana issue
January 02, 2010 17:08 IST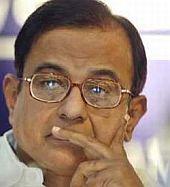 Union Home Minister P Chidambaram [

Images

] was criticised by two opposition parties in Andhra Pradesh -- Telugu Desam and Praja Rajyam -- which said he was "adding fuel to fire" over the contentious Telangana [

Images

] issue.
Chidambaram also became the target of attack of the Bharatiya Janata Party [

Images

], with the party alleging that his statements on the separate statehood demand were only compounding the confusion.
"He (Chidambaram) is against the bifurcation of his native state Tamil Nadu, but is ready to divide AP. Why these double standards? It only exposes the vengeful attitude of Chidambaram against the fast-developing Andhra Pradesh," Telugu Desam Party senior Members of Legislative Assembly Dhulipalla Narendra Kumar and Bojjala Gopalakrishna Reddy said.
Addressing a press conference at the Telugu Desam Legislature Party office, the MLAs alleged that the Union home minister was "adding fuel to fire" through his statements on the Telangana issue and pushing Andhra Pradesh into further turmoil.
"Except vested interests, there is absolutely no basis for division of AP. If backwardness is a basis for bifurcation, then there are many backward areas even in coastal Andhra and Rayalaseema regions," they said.
They wondered how the Centre could go ahead with the proposed bifurcation of the state when there was no consensus even within the ruling United Progressive Alliance [

Images

].
"Sharad Pawar [

Images

], Mamata Banerjee [

Images

] and Dayanidhi Maran [

Images

] have opposed the formation of Telangana. Even the Samajwadi Party and the Rashtriya Janata Dal are also against this. Why are you not taking this into account? Moreover, has the Union Cabinet ever discussed the bifurcation issue and framed any guidelines for that," the leaders questioned Chidambaram.
Narendra and Gopalakrishna took strong exception to the all-party meeting convened by the Centre on January 5, saying that it has been done even before normalcy returned to the state. "This will only stoke the passions further and worsen the situation in Andhra Pradesh," they said.
On the other hand, TDP politburo member Nagam Janardhana Reddy, a Telangana supporter, too lashed out at Chidambaram saying his statements on statehood issue "lacked consistency".
"He (Chidambaram) is speaking one thing in New Delhi [

Images

] and another in Chennai. He seems to be ignoring the people's wishes on such a critical issue," Nagam said.
Senior Praja Rajyam Party leader K Kala Venkata Rao came down on Chidambaram alleging that a deep conspiracy was being hatched under his leadership to split Andhra Pradesh, the largest state in south India [

Images

].
"If backwardness is the reason for the proposed bifurcation of AP, then the country should also be divided into a thousand pieces," he said.
Senior BJP leader and former Union minister Vidyasagar Rao said in Karimnagar Chidambaram's statements on the separate statehood demand were only compounding the confusion.
"The Congress itself doesn't have a clear view on the Telangana issue. Then there is no meaning for the all-party meeting on January 5," Vidyasagar Rao said.